The Choir Behind the Main Altar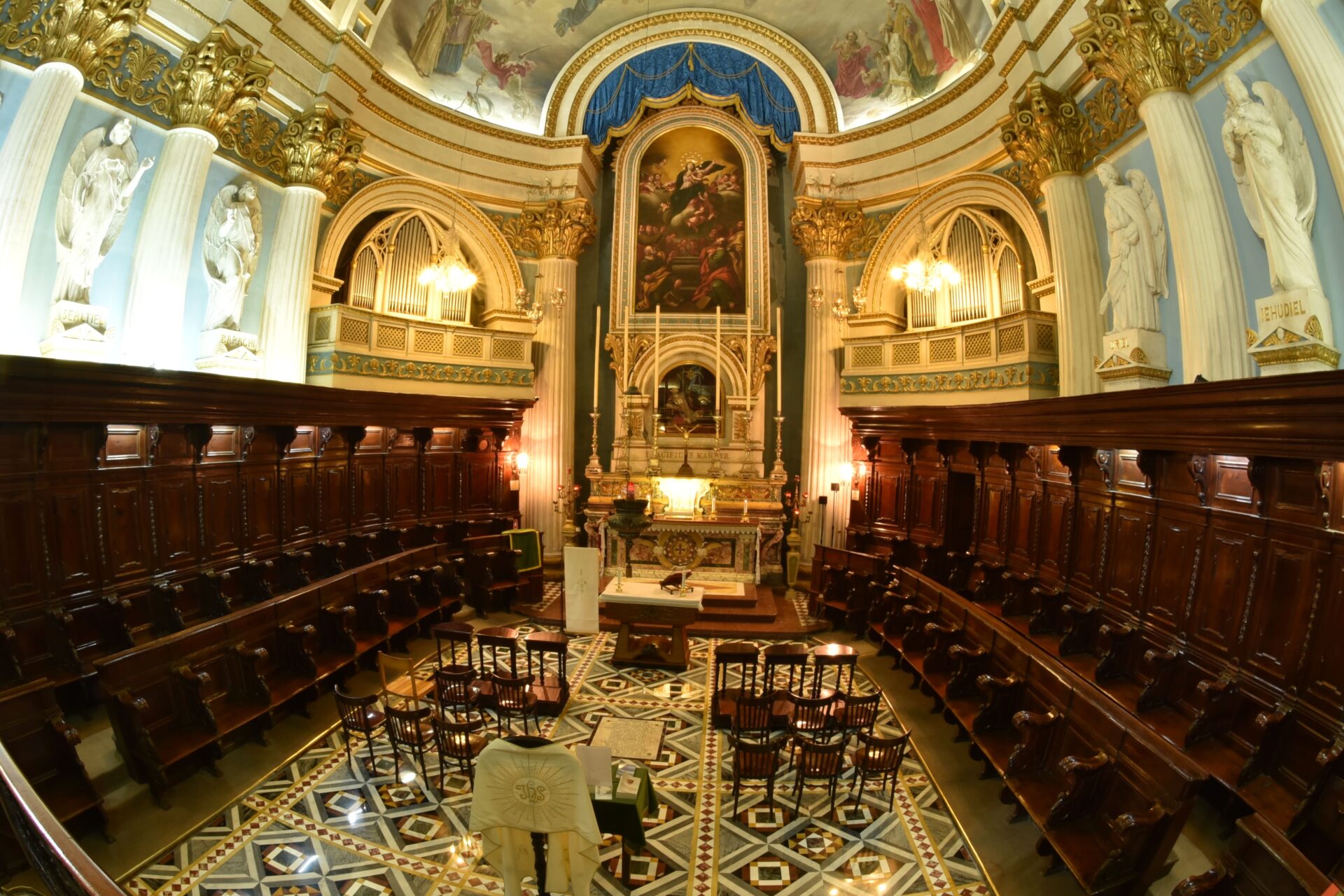 On entering the choir area, looking up one notes the titular painting of the Assumption of Our Lady accompanied by angels, while the Apostles follow the scene gathered around the empty tomb. This work of art is by Stefano Erardi, done for the previous church.
By a decree of Pope Paul VI, on 10 August 1975, Archbishop of Malta Mgr Michael Gonzi crowned the image of Our Lady by placing a golden crown adorned with precious gems on the head of the Madonna. On the 25th anniversary of this event, 10 August 2000, twelve gold stars were added around the crowned head of the Madonna.
The main apse depicts the Holy Trinity in the act of welcoming the Blessed Virgin on her entrance into Heaven. This work of art includes various saints in its composition and was painted directly on stone by Giuseppe Calì in 1880
Below the titular painting of the Assumption, there is a niche above the altar holding the sacred relics of Saint Pacificus, consisting of pieces from the body of an unknown early martyr of Christianity, which were brought to Mosta in 1783 from the Cemetery of Saint Priscilla in Rome.
The choir altar was built in 1682 and it was the main altar of the previous church.
On each side of the choir there are three statues of archangels, a work in stucco by Vincent Apap that dates to around 1936. The six Archangels are: Gabriel, Jehudiel, Uriel, Raphael, Sealtiel and Barachiel.
In the presbytery area the main altar made of marble and constructed in 1871 by Sicilian artists, was made for the newly built rotunda church. Looking at the altar, on each side there is the statue of an evangelist – Saint John on the left and Saint Luke on the right. These are the work in marble of Sebastiano Spampinato from 1911. Before the liturgical reform brought about by the Second Vatican Council, these statues served as book holders for the reading of the Gospel and the Epistle.
The latest additions are the altar table, the ambo (reading stand) and the sedia (the celebrant's chair). These are of Carrara marble, the work of Lo Conte Marmi of Italy, completed in 2018 on the occasion of the proclamation of the church as a Minor Basilica. Their design complements the Neoclassical style of this Basilica. The altar was consecrated by the Archbishop of Malta Mgr Charles J. Scicluna on 10 August, 2018.