Chapel of Our Lady of Good Hope – Baroque Architecture and Ex-Votos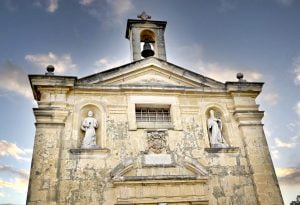 Built in 1760, this is one of the most beautiful chapels in Mosta. On entering, the visitor is surprised by the beautiful baroque decoration. The paintings include the titular on the main altar and the two flanking artworks, all by Rocco Buhagiar.
Another painting depicting Our Lady of Good Hope is by Raffaele Bonnici Calì, while the titular statue is the work of Gerolamo Dingli.
The chapel, and the cave under it, are a Marian site that has enjoyed a long-standing devotion. A number of ex-votos can be seen in the sacristy and also in the cave. As this chapel is associated with the legend of a young girl who was protected through divine intervention from falling into slavery at the hands of Barbary corsairs, and is dedicated to the Madonna under the title of Hope of Christians, many sufferers have travelled there to plead for healing.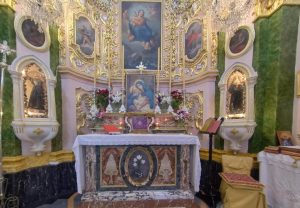 The ex-votos are testimony of the gratitude for graces granted to those who beseeched Our Lady for her intercession with God. Of note are the letters V.F.G.A, which in Latin signify: votum fecit et gratiam accepit – a vow was made and a favour was received.
Tap the Map for Directions