Chapel of St Paul the Hermit & Speranza Valley – folklore & natural beauty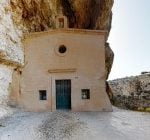 This small chapel is situated in a cave in the side of Wied il-Għasel (transl. Valley of Honey), which forms part of the long Speranza Valley. The setting is truly picturesque. Within the built chapel one finds another troglodytic chapel, which is set at the far end of the inner cave.
The chapel is linked to the legend of St Conrad who is said to have lived here but after being accused unjustly by the local community was constrained to go to Gozo to escape the harassment of the Mostin. Conrad or Corrado Confalonieri came from a noble Piacenza family and at one point in his life became a penitent member of the Third Order of St Francis and a hermit.
A water spring trickling out of the overhead rock was also a well-known feature of this chapel. Many, including Grandmaster Pinto of the Order of St John, took from this water as it was considered beneficial to health.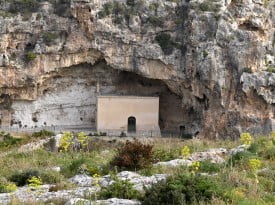 Wied il-Għasel is Mosta's main valley and it offers the nature lover a chance to enjoy a different scene from the built-up town just a short distance away. Wild flowers, abandoned fields, a rugged rock face and a waterway after some heavy rain, make this valley an astonishing place to which one can escape for some time from the hustle and bustle of the modern world.
Tap the Map for Directions